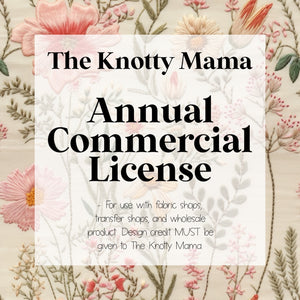 Annual Commercial Shop License (NO REFUNDS ALLOWED)
Regular price
$450.00
$0.00
Unit price
per
TERMS OF USE FOR ANNUAL COMMERCIAL LICENSE
- All copyright belongs to The Knotty Mama (Ashley Evans) and will not be transferred. The designs may not be redistributed, used in other digital files including Alpha Sets, or uploaded on print on demand sites such as Redbubble, Zazzle, Amazon Marketplace, etc.
COMMERCIAL LICENSE INCLUDED
-  10,000 printed end products per file. If printing/selling more than 10,000 finished products per digital design/image, you must purchase an extended commercial license from The Knotty Mama. For example, if you sell 25 yards of fabric of one pattern, that is 25 units sold.

-  This license covers fabric shops, transfer shops, and allows for the use of wholesale using The Knotty Mama. Price for wholesale completed tees may be no less than $14 per shirt and no less than $13 per tumbler using our designs. 

-  Design credit MUST be given to The Knotty Mama for ALL uses. Design credit can be given at the bottom of product descriptions. If filming on Tik Tok, Facebook Reels, etc. design credit must be given to The Knotty Mama in the caption.

PROHIBITED USE
-  Our designs may not be posted ANYWHERE without a bold watermark. This is required

to prevent our patterns from being stolen or reduplicated.

-  Modification of our artwork is not allowed. This includes changing color, layout, etc.

-  Seamless patterns may not be used to create any digital item for resell. This includes templates, invitations, Alpha Sets, etc. The Knotty Mama offers Alpha Sets available in our lifetime Alpha Set drive. You may NOT create your own using our seamless images. If caught doing so, your license will be revoked immediately and you will be asked to remove any The Knotty Mama designs from your website, etc. If you fail to do that, we will pursue a DCMA violation for copyright infringement.

-  The use of overseas manufacturers is STRICTLY prohibited. Please have all finished products made in the United States. If you fail to do so and violate this license, the use of this license will be revoked and you will not receive a refund. We will also pursue a DCMA violation for copyright infringement with failure to remove our designs from your platform.

-  Reselling/redistribution of this digital design is strictly prohibited. This includes sharing the file, giving away the file, and trades of any kind.
- By purchasing our commercial license, you are in agreement with the terms listed above. You understand that violation of any of these terms will revoke your license immediately and refunds will not be issued. Upon revoking of license, you will be asked to remove any The Knotty Mama designs or products featuring our designs from your platforms. If you fail to do so, we will pursue a DCMA violation and a $250 fee PER violation with failure to remove.
---
Share this Product
---